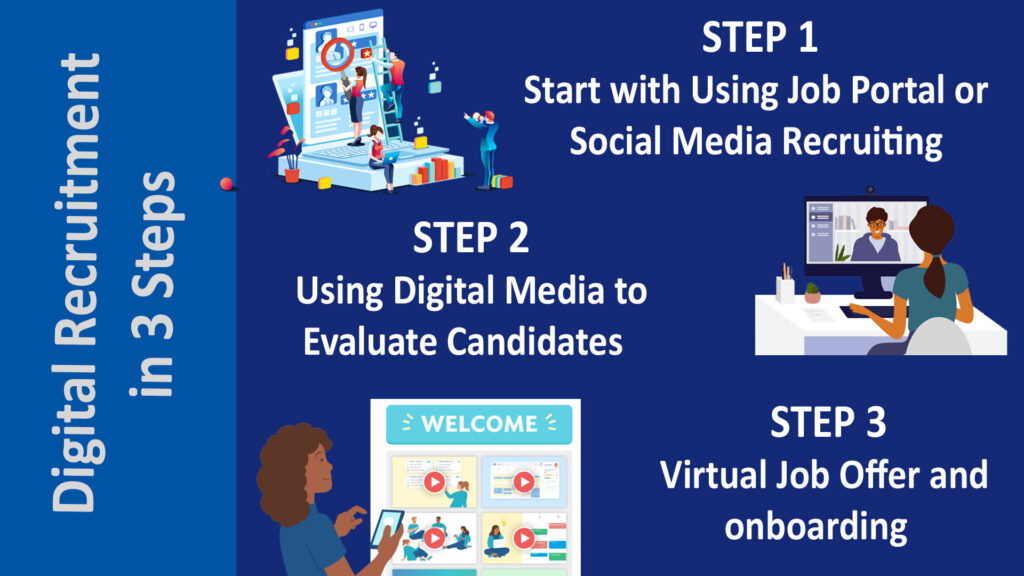 Digital Recruitment is the use of digital media to source, shortlisting, evaluate, select, and onboarding individuals to fulfill organizational manpower demand. In digital recruitment, a recruiter uses career websites, social media or even company website to attract & source candidates; using ATS software or implementing AI in resume shortlisting; using CRM, use digital media to evaluate & select candidates and automate onboarding process.
Why digital Recruitment?
Traditional Recruitment is time consuming and its involves manual intervention. Most of the cases it includes paper work. However, by automated recruitment process paperwork can be decreased up to zero level and it shall save time. Hence, it shall decrease manpower requirement in HR department and save company costing.
How organization can implement Digital Recruitment?
Implementing 100% digital & paperless recruitment is time consuming, organization needs to develop IT infrastructure for this. However, organizations can go towards digital recruitment and only HR professionals can implement the same. Here we will be discussing four steps how organizations can implement digital recruitment:
Step 1: Start with Using Job Portal/ Social Media Recruiting
Traditional method of attracting candidate is publishing newspaper advertisement; however, organizations can use Job portal. Potential candidates can apply from Job portal and companies can shortlist resume from job portal. Most of the Job portals are using Artificial Intelligence technology and recruiters can shortlist potential candidates in just one click.
Social media recruiting is much interesting. Now professionals spent lots of time online in this digital and currently remote working world. Proper placing in social media may be one of the best source of recruitment. Using social media like LinkedIn, Facebook, Instagram, and Twitter can help attacking a significant number of potential candidates. Best practice to attract potential candidates includes Job posting on LinkedIn; or sending direct message to candidates on LinkedIn, Facebook, Instagram, and Twitter; link sharing on different social media. Those platforms are not only help you to source candidates but you can look after candidate's social media activity to understand candidate's personality and interest.
Step 2: Using Digital Media to Evaluate Candidates
Evaluating candidates start with shortlisting. Recruiter can use ATS software for resume shortlisting. If you are a recruiter, then you can use ATS software. But most important is, assessing candidates virtually. On traditional method, recruiter invite candidate in office for written, practical or interview for screening or selecting candidates. But, recruiter can arrange a virtual test or virtual interview which is very effective one as it shall save time of both applicant and interviewer. If any recruiter wants do go in deep, then he/she can set some questionnaire over google or Microsoft form or any other platform and candidates may be requested to answer. Finally, a face to face interview may be arranged at final stage only.
So recruiter can complete initial screening, MCQ text salary negotiations or even technical interview virtually.
Step 3: Virtual Job Offer and onboarding
Once everything done, then recruiter can share Job Offer over Email. Employee can accept the offer virtually and share over email also. Recruiter can complete pre onboarding activities like signing contract, share public company information and social activities of the organization for better experience. Big corporations are using dedicated virtual platform to complete onboarding formalities. However, after completing all paperwork virtually before date of joining, recruiter can welcome employee in person on the date of Joining without any paperwork and complete orientation program. Now some companies are doing orientation program virtually & for remote employee it is most effective.
Click Here Learn Practical Talent Acquistion Process.
Author: M Sabina Akhtar, Freelance Digital Marketer