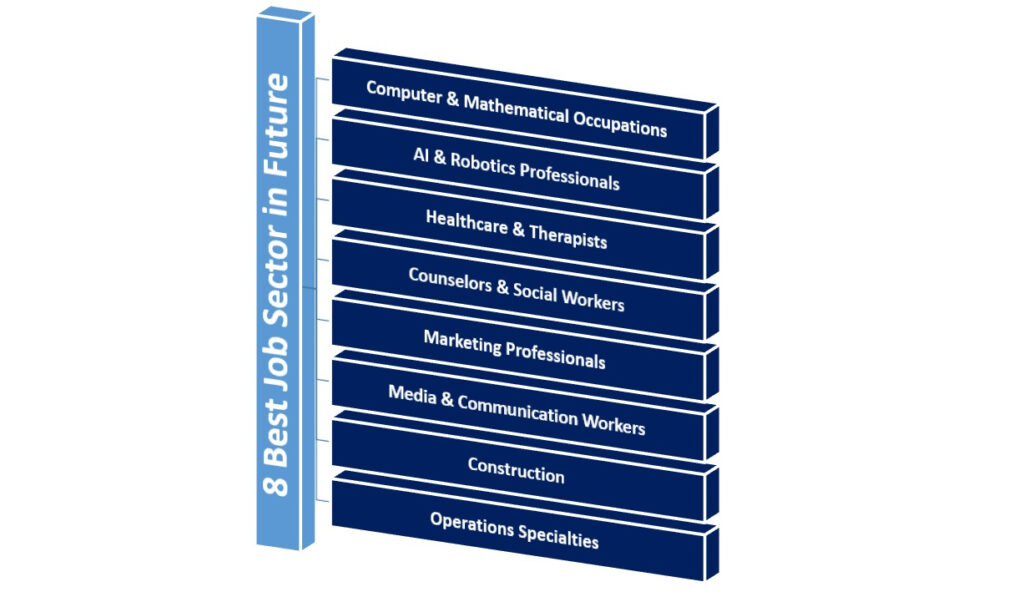 Are you a student?
Are you thinking for changing your career?
Do you just want job security to stop worrying about technology and outsourcing taking your job?
Are you worried?
How do you know what types of jobs are going to provide you financial stability both today and 5 or 10 years down the line?
No Worries!
We have collected 8 Best Job Sector which will be in demand at future which will be the best career for the future. Those demandable careers can give you the job security in future, financial stability and peace-of-mind you are looking for. Those will be fastest growing and highest paying careers in demand for the future.
If you are thinking about changing careers or you are trying to choose your college major, this post will benefit you.
Computer & Mathematical Occupations: Digital transformation is everywhere. The unfortunate reality is that many efforts related to digital transformation have failed. However, it is the time of change and go ahead. Many professionals will be required to accelerate & carry on the change. Especially developers, analysts, programmers and information security analysts.
AI & Robotics Professionals: Automation is going on everywhere. Machines are replacing mans. To run the automation, lots of robotics professional, i.e. Electro-mechanical technicians, Mechanical & Electrical Engineers, Computer Engineers, Aerospace Engineers, and Design Engineers will be required. Data Scientists, Machine Learning Engineers, Algorithm Engineers will be also required.
Healthcare & Therapists: Healthcare professionals will be in demand at future. Especially mental health professionals, technicians and diagnosticians, nurses, personal care and service, and home health aides. Therapists like physical, respiratory, speech and language therapists will be also in demand.
Counselors & Social Workers: Counselors typically focus on helping families and individuals with a specific set of problems, particularly patients with mental health disorders. Social workers, on the other hand, focus on providing a wider range of services in social service systems. In future job market, marriage and family Counselors, substance abuse counselors, social workers will be in demand.
Sales & Marketing Professionals: This is the profession, which was, is and will be in demand. Some demandable marketing career will be Market Research, Business Development, Digital Marketing, Public Relation Job.
Media & Communication Workers: Digital marketing has made revolution in professional field. Lots of digital media content like graphics, video content is required for digital marketing. Graphics Designers, Video Operators and Editors, Interpreters and Translators are in high demand now.
Construction: Civil Engineers, Construction and Building Inspectors, Construction Equipment Operators, Boilermakers will be in demand in future.
Operations Specialties: An operations specialist is responsible for the management of workflow throughout all departments within a business. Operations Manager, Financial Managers, Computer Information Systems Managers are in high demand.
Author: Md Aminul Islam, HR Professional