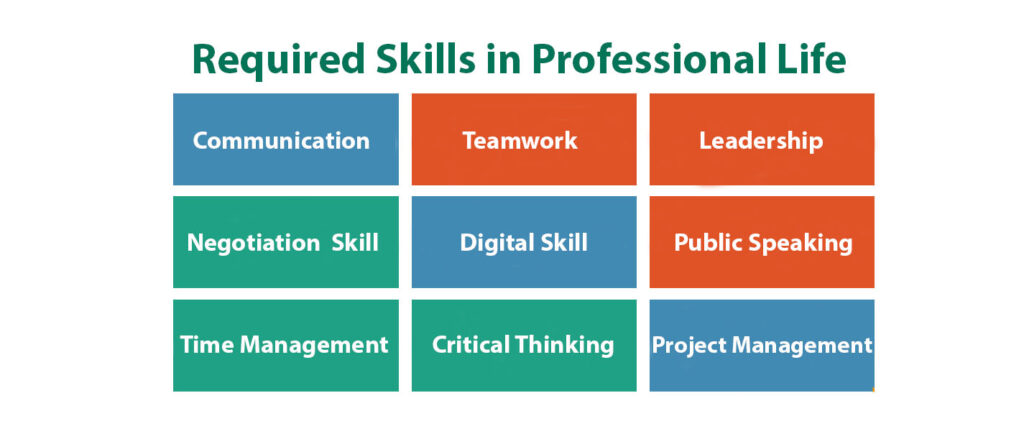 What are the required skills in professional life? At workplace, every people should have some set of skills. Where some skills are specific to a job and some are required as a common & those are required irrespective of sectors. Those skills promote a high level of professionalism and increase productivity in the workplace. You might do a job; you might do a business or even you might be student and those skills are really required to do well in professional life. Here, we will have summarized some set of required skills in professional life. To do well in your career, you must have those skills and you need to improve those skills gradually.
1. Communication
Communication skills are very important at workplace. It includes written, verbal or even nonverbal communication. Without a proper communication skill no professionals can survives at workplace because it helps us to pass information to others. It is also required in personal life also because good communication skills can improve personal relationship also. In general, we prioritize written and verbal communication skills but nonverbal communication skills is as much as important as your written and verbal communication skill. Nonverbal communication refers to your gestures, posture, facial expressions, tone of voice, eye contact, body language or other ways people can communicate without using language.
2. Digital Skill
The abilities to use digital devices, communication applications and applying modern IT devise and application n workplace is digital skill. Now day's corporations are implementing different digital applications and devise to accelerate business. Lots of new process has come out like Artificial Intelligence (AI), Data Science etc. IT professionals needs to have specific knowledge, however non-IT professionals should have below digital skills to do well in workplace:
Microsoft Office Tools (Word, Excel, PowerPoint, Outlook, OneDrive, Access, Publisher, Project, OneNote etc.)
Virtual Communication Platform (Zoom, MS Team, Google Meet, Livestorm, WebEx etc.)
Basic Graphics Design (Adobe Photoshop or Simply paint)
Basic Video Editing (Windows Video Editor/ Movie Maker, iMovie for MAC users)
Internet browsing
Basic Idea on Computer troubleshooting
3. Teamwork
At workplace, we need to work in some sort of a group; it may be in projects or to achieve company vision. Trust & Interpersonal skills are very important in teamwork. It enables team members to share ideas and responsibilities because it helps to reduce stress on everyone and allowing them to be careful and thorough when completing tasks.
4. Leadership
If you want to grow, you must have leadership skill. Whatever is your role in the organization, leadership skills are important. Some examples of leadership skills are Accountability, Flexibility, Empathy, Coaching, Planning, Politeness, Strategic thinking, Creativity, Negotiation Skills etc.
5. Time Management
As a professional, you need to deliver your service within a deadline. You may take it simply but it is one of the most important qualification of a professional. You can impress everyone by completing the deliverable before deadline and attending the meeting a few minutes only.
6. Project Management
Only certified project managers are not managing a project but also every professionals are managing a project. To understand this, we need to know what a project is. A project is a set of task, which has a time limit, cost limit & specific goals. Project Management is achieving the goal within project timing and cost.
7. Public Speaking
Almost every job requires some public speaking. You might require speaking up during meetings, providing information to your colleagues, speaking to a group in some small way, or even you might require to make a presentation. Professionals need to be capable of speaking in front of others.
8. Negotiation Skill
Negotiation is a method by which people settle differences between two or more sides. This skills are an effective tool any professional should have. Negotiation skills are required for closing deals with clients, settling disagreements with others, discussing terms of contracts, or trying to extend deadlines for projects. Negotiation skills are also important during drafting contracts with clients or assigning roles to team members. A good negotiator also considers the other party to find mutually beneficial agreements.
9. Critical thinking
Critical thinking is the ability to think clearly and rationally, analysis of available facts, observations, research findings and arguments to make a reasoned judgment. Good critical thinkers can reach to a reasonable conclusion from a set of information, and discriminate between useful and less useful details to make decisions. To become a good critical thinker, you should have analytical skill, communication skills, problem solving skill, creativity and Open-Mindedness.
Related Article: Post COVID New Normal: Change of Occupations & required New Skill