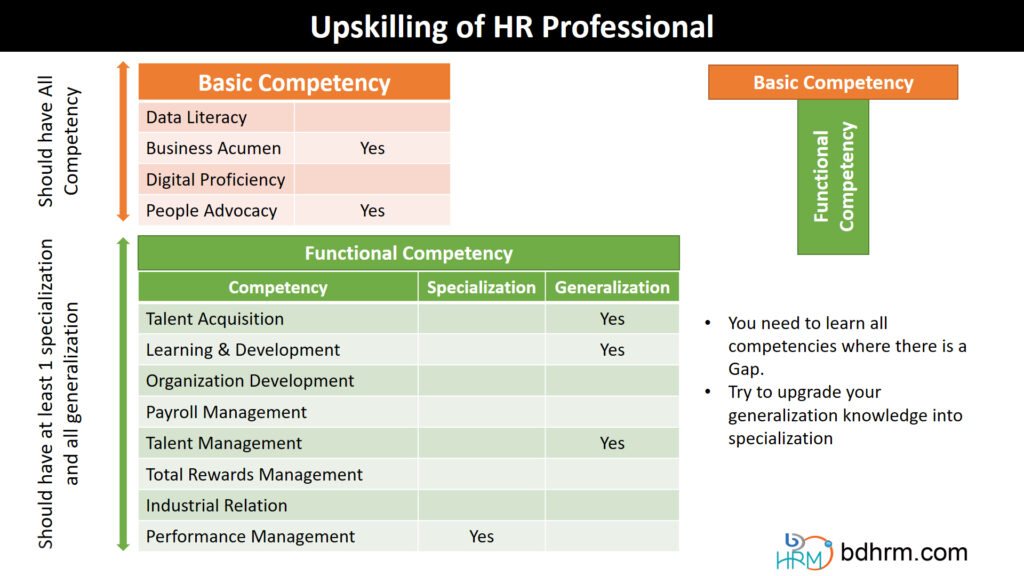 Upskilling is not only just a rumor but it's a must do for all professionals. Like all other professionals, upskilling of HR professionals is very important to survive and grow in the industry. Even for HR professionals, upskilling is more important as they need to drive people development. HR professionals cannot develop other professionals if they remain themselves outdated. Hence, upskilling of HR professional is most important.
Now the question is – "How HR professionals can upskill themselves?" There are lots of opportunities and options for upskilling, lots of organizations are working for upskilling of HR professionals. It's not a paid promotion, however organizations like HRCI, SHRM, AHIR, HCI, ATD are working for upskilling and reskilling of HR professionals. But the problem is – those are costly. In most of the cases, entry level professionals who wish to upskill themselves cannot do upskilling themselves due to funding. What could be the solution, if case you are facing funding problem:
Divide your income 60: 20: 20 ratios. First 60% for maintaining your regular expenses, 20% for savings & rest 20% for your upskilling. But you must need to invest on yourself. If you need to go on shared housing; go for it but investing on skill development is a must.
You might try some self-learning opportunities. In that case, you can buy & read books, try some free training providers. It's not a paid promotion, however we are recommending learning from Alison, Edx, Great Learning Academy, Coursera, Udemy, YouTube and so on. You can start learning at free & later you may decide for paid course.
Another question needs to be addressed – "What types of HR professional are you?"
HR Generalist or Dash Shaped (-): You have knowledge of almost every sectors of traditional HR, i.e. Talent Acquisition or Recruitment & Selection, Training & Development, Payroll. But you don't have any specialization in any particular field of HR. So, you are a HR professional with Expertise of everything but master of none.
Specialist or I-Shaped (I): You have deep understanding and specialization in one specific area of HR but do not have expertise to other fields of HR and have very limited knowledge on modern HR practices worldwide. And you have not applied your knowledge in more than one field.
If you fall under any of above two types of HR professional, then it is recommended to convert yourself into a T- Shaped Professional and upskill yourself. Here, I'm giving you a short brief what is T-shaped HR professional:
T-Shaped HR Professional: A T – shaped HR professional is one who has good working knowledge in every fields of HR and have specialization in at least 1 filed of HR. They are most productive one. Dash-shaped HR professional (Generalist) may be good for small companies or I-Shaped HR professional (Specialist) may be good for big corporations, but to become a CHRO of big corporations or even a medium size companies you must have T-shaped skill.
So, if you want to be a CHRO, then it is must to upskill yourself into T-shape HR professional. Also, in the changed workplace and AI applications, requirement of HR professionals is decreasing day by day. Hence, lots of HR professionals shall lose their job and only skills professionals shall retain in the market. Due to change in business model, implementing technology every HR professional's needs upskill themselves with new applications & tools.
Academy to Innovate HR (AHIR) has Introduced consistency for T-Shaped HR professional. AHIR recommended HR professional to have below 4 basic competencies to become a T-shaped HR professional:
Data Literacy
Business Acumen
Digital Proficiency
People Advocacy
AHIR recommended to have specialization in at least 1 functional competency and generalist in 4 core HR competencies as well.
I have identified below 8 competencies and recommend HR professional to have at least 1 specialization knowledge (recommended to have more) and working knowledge in other fields as well:
Talent Acquisition or Recruitment & Selection
Learning & Development
Organization Development
Payroll Management
Talent Management
Total Rewards Management
Industrial Relation
Performance Management
You may think for other skills also. Click here to find required skills you need at workplce.
Now it's time to think where should you upskill yourself. So make a list where you are, make your required learning objectives and go for your skill development. If you can have a professional course, that will be great but if you can't manage fund, then its shouldn't be an excuse for your upskilling.
You will get hundreds of opportunities to upskill yourself by free courses, reading books or reading articles on Internet. Hence, upskilling of HR Professional if not a challenge even you have limited income.
Author: Md Aminul Islam, HR Professional – Bangladesh, in LinkedIn